CALL US TODAY!  (866) 457-3904 Screen Enclosure Designs is your one top source for all your screen enclosure needs. Our company is perfectly positioned to help you replace, repair or construct your next screen enclosure project. 

Screen Enclosure Designs  has over ten years experience in constructing aluminum screen enclosures for residential communities all throughout South Florida including the Florida Keys.

In residential condominium developments we specialize in screen enclosures for balconies. In private residences' we build custom made screen enclosures for swimming pools, patios and terraces.

As a licensed and insured aluminum specialty contractor, we are dedicated in providing the highest quality of materials and workmanship.  Engineering plans are prepared and certified by state licensed firm specific to each county jurisdiction. Product and engineering  meet the newest Florida Building Code March 1st of 2009.

Our professionally trained craftsmen take pride in their work and are supervised directly by owner of company.  Using highest quality materials and specialized techniques, our installers are amongst the best in the business.

Welcome to the Future of Service!

"They   installed   our   enclosure under 5 day's. Now that's what I call performance!"


-Michael V., Miami Beach, FL.

No matter how big or small your project may be, our concept is making comfortable spaces working with our customer's budget.

Stop the bugs from coming in. REPAIR it. We will re-screen your outdoor space and make it look brand new again.

Our work does not end with screen enclosures. We design roofs, carports, porches, patios, verandas, terraces, balconies,

and more.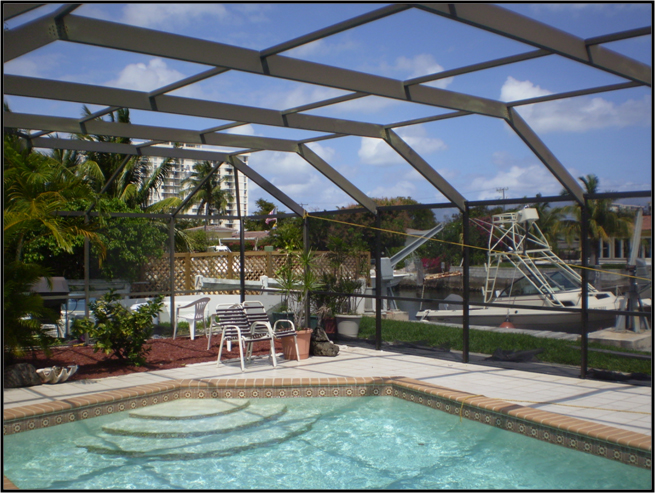 CALL US TODAY!  (866) 457-3904

FREE ESTIMATE!,  Please Fill Contact Information Below

Thank You for your Business!

For more information give us a call at (866) 457-3904

Thank you for visiting www.screen-enclosure.com